By
Erskine Childers
, 1903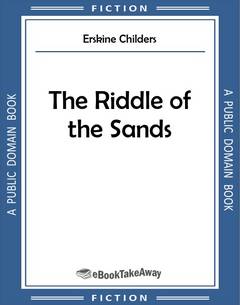 Summary
Read an excerpt and download The Riddle of the Sands by Erskine Childers for iPhone, iPad, Android, and Kindle in PDF and all popular eBook reader formats (AZW3, EPUB, MOBI).
A boating holiday in the Baltic sea turns into a sinister game as two friends stumble upon a secret guarded by a German navy patrol boat, the Blitz and its commander Von Bruning in the German Frisian islands.
Written at a time of increasing tension between England and Germany, The Riddle of the Sands is one of the earliest spy novels.
Excerpt
I.

The Letter
I HAVE read of men who, when forced by their calling to live for long periods in utter solitude—save for a few black faces—have made it a rule to dress regularly for dinner in order to maintain their self-respect and prevent a relapse into barbarism. It was in some such spirit, with an added touch of self-consciousness, that, at seven o'clock in the evening of 23rd September in a recent year, I was making my evening toilet in my chambers in Pall Mall. I thought the date and the place justified the parallel; to my advantage even; for the obscure Burmese administrator might well be a man of blunted sensibilities and coarse fibre, and at least he is alone with nature, while I—well, a young man of condition and fashion, who knows the right people, belongs to the right clubs, has a safe, possibly a brilliant, future in the Foreign Office—may be excused for a sense of complacent martyrdom, when, with his keen appreciation of the social calendar, he is doomed to the outer solitude of London in September. I say 'martyrdom', but in fact the case was infinitely worse. For to feel oneself a martyr, as everybody knows, is a pleasurable thing, and the true tragedy of my position was that I had passed that stage. I had enjoyed what sweets it had to offer in ever dwindling degree since the middle of August, when ties were still fresh and sympathy abundant. I had been conscious that I was missed at Morven Lodge party. Lady Ashleigh herself had said so in the kindest possible manner, when she wrote to acknowledge the letter in which I explained, with an effectively austere reserve of language, that circumstances compelled me to remain at my office. 'We know how busy you must be just now', she wrote, 'and I do hope you won't overwork; we shall all miss you very much.' Friend after friend 'got away' to sport and fresh air, with promises to write and chaffing condolences, and as each deserted the sinking ship, I took a grim delight in my misery, positively almost enjoying the first week or two after my world had been finally dissipated to the four bracing winds of heaven.