How to Live on 24 Hours a Day
By
Arnold Bennett
, 1910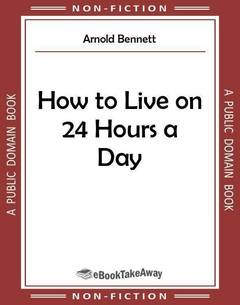 Summary
In this classic book on time management, Bennett instructs his readers on how to live life to the fullest, given that there are twenty-four hours in a day and always so much to accomplish.
Managing time, not money, is the true route to happiness. You can get more money. But time is parceled out at the same rate for everyone, no matter their class or income. Time, the rarest commodity, cannot be made to last, but it can be lived. And by living it properly, anyone can improve their level of satisfaction and happiness.
Read an excerpt and download How to Live on 24 Hours a Day by Arnold Bennett for iPhone, iPad, Android, and Kindle in PDF and all popular eBook reader formats (AZW3, EPUB, MOBI).
Excerpt
 I
THE DAILY MIRACLE
"Yes, he's one of those men that don't know how to manage. Good situation. Regular income. Quite enough for luxuries as well as needs. Not really extravagant. And yet the fellow's always in difficulties. Somehow he gets nothing out of his money. Excellent flat—half empty! Always looks as if he'd had the brokers in. New suit—old hat! Magnificent necktie—baggy trousers! Asks you to dinner: cut glass—bad mutton, or Turkish coffee—cracked cup! He can't understand it. Explanation simply is that he fritters his income away. Wish I had the half of it! I'd show him—"
So we have most of us criticised, at one time or another, in our superior way.
We are nearly all chancellors of the exchequer: it is the pride of the moment. Newspapers are full of articles explaining how to live on such-and-such a sum, and these articles provoke a correspondence whose violence proves the interest they excite. Recently, in a daily organ, a battle raged round the question whether a woman can exist nicely in the country on L85 a year. I have seen an essay, "How to live on eight shillings a week." But I have never seen an essay, "How to live on twenty-four hours a day." Yet it has been said that time is money. That proverb understates the case. Time is a great deal more than money. If you have time you can obtain money—usually. But though you have the wealth of a cloak-room attendant at the Carlton Hotel, you cannot buy yourself a minute more time than I have, or the cat by the fire has.
Philosophers have explained space. They have not explained time. It is the inexplicable raw material of everything. With it, all is possible; without it, nothing. The supply of time is truly a daily miracle, an affair genuinely astonishing when one examines it. You wake up in the morning, and lo! your purse is magically filled with twenty-four hours of the unmanufactured tissue of the universe of your life! It is yours. It is the most precious of possessions. A highly singular commodity, showered upon you in a manner as singular as the commodity itself!
For remark! No one can take it from you. It is unstealable. And no one receives either more or less than you receive.